I first made America's Test Kitchen's oatmeal snack cake over a year ago, and it was incredible -- such a quick little recipe, but so moist and delicious. I was recently pondering the numerous cans of pumpkin I still have in my pantry and decided a Pumpkin Oat Snack Cake should absolutely exist. Et Voila!
This thing is so good. I seriously did not mean to eat a piece of it during the photo shoot, but one bite led to another. I had to freeze the rest immediately to be sure Mike would get a piece or two. Particularly since it's such an easy little recipe, I hope you'll give it a try!
Pumpkin Oat Snack Cake with Broiled Coconut Icing
---

Recipe by: Adapted from America's Test Kitchen's Oatmeal Snack Cake with Broiled Icing
Yield: 9 servings

This little snack cake whips up in a jiffy and boasts so much bang for its buck! It's a delicious pumpkin-oat spice cake with a toasty coconut and pecan broiled topping.

Cake Ingredients:
1 cup (3 ounces) quick-cooking oats*
3/4 cup water, room temperature
3/4 cup (3 3/4 ounces) unbleached all-purpose flour
1/2 teaspoon baking soda
1/2 teaspoon baking powder
1/2 teaspoon salt
1 teaspoon ground cinnamon
1/2 teaspoon ground nutmeg
1/2 cup pumpkin
4 tablespoons (1/2 stick) unsalted butter, softened
1/2 cup (3 1/2 ounces) granulated sugar
1/2 cup packed (3 1/2 ounces) dark brown sugar
1 large egg, room temperature
1/2 teaspoon vanilla extract

Broiled Icing Ingredients:
1/4 cup packed (1 3/4 ounces) dark brown sugar
1/2 teaspoon cinnamon
3 tablespoons unsalted butter, melted and cooled
3 tablespoons milk
3/4 cup sweetened shredded coconut
1/2 cup (2 1/2 ounces) pecans, chopped

Directions:
Make the cake: Preheat oven to 350 degrees. Create a foil sling for an 8-inch square pan: cut two 16-inch lengths of foil and fold them to widths of 5 inches each. Fit foil pieces into baking dish, one overlapping the other, pushing them into corners and up sides of pan; allow excess to overhang pan edges. Cut two more pieces of the same size and arrange them in the same way, except perpendicular to the first two. This creates a sling that will help you remove the cake after baking and cooling. Spray foil lightly with nonstick cooking spray.

Combine the oats, pumpkin puree, and water in medium bowl and let sit until water is absorbed, about 5 minutes. In another medium bowl, whisk the flour, baking soda, baking powder, salt, cinnamon, and nutmeg together.

In a separate large bowl, cream together the butter and sugars for a few minutes until the mixture resembles damp sand (scraping down the bowl as needed). Add the egg and vanilla and mix until combined. Add the flour mixture in 2 batches, mixing until just incorporated after each addition. Add the oat mixture and mix until just combined. Stir the mixture by hand to make sure everything is combined.

Glop the batter into the prepared pan and tap it against the counter a few times to ditch any air bubbles. Smooth the surface with a spatula. Bake the cake, rotating halfway through baking, until a toothpick inserted into center comes out with few moist crumbs attached, about 28 to 32 minutes. Let the cake cool in the pan for about 10 minutes while you mix the icing.

Make the icing: Move the oven rack to around 9 inches away from the broiler heating element and preheat the broiler. In a medium bowl, whisk together the brown sugar, cinnamon, melted butter, and milk. Stir in the coconut and pecans before spreading mixture evenly over the top of the cake. Broil the cake, keeping a close eye on it and rotating as needed, until topping is bubbling and golden, about 3 to 5 minutes. Let the cake cool in pan for 1 hour. Use the sling to pull the cake gently out of the pan. Cut it into squares and transfer to a platter or serving plates; discard the foil.

*ATK's notes: Do not use old-fashioned or instant oats for this recipe. Be sure to use a metal baking dish; glass pans are not recommended when broiling. A vertical sawing motion with a serrated knife works best for cutting through the crunchy icing and tender crumb.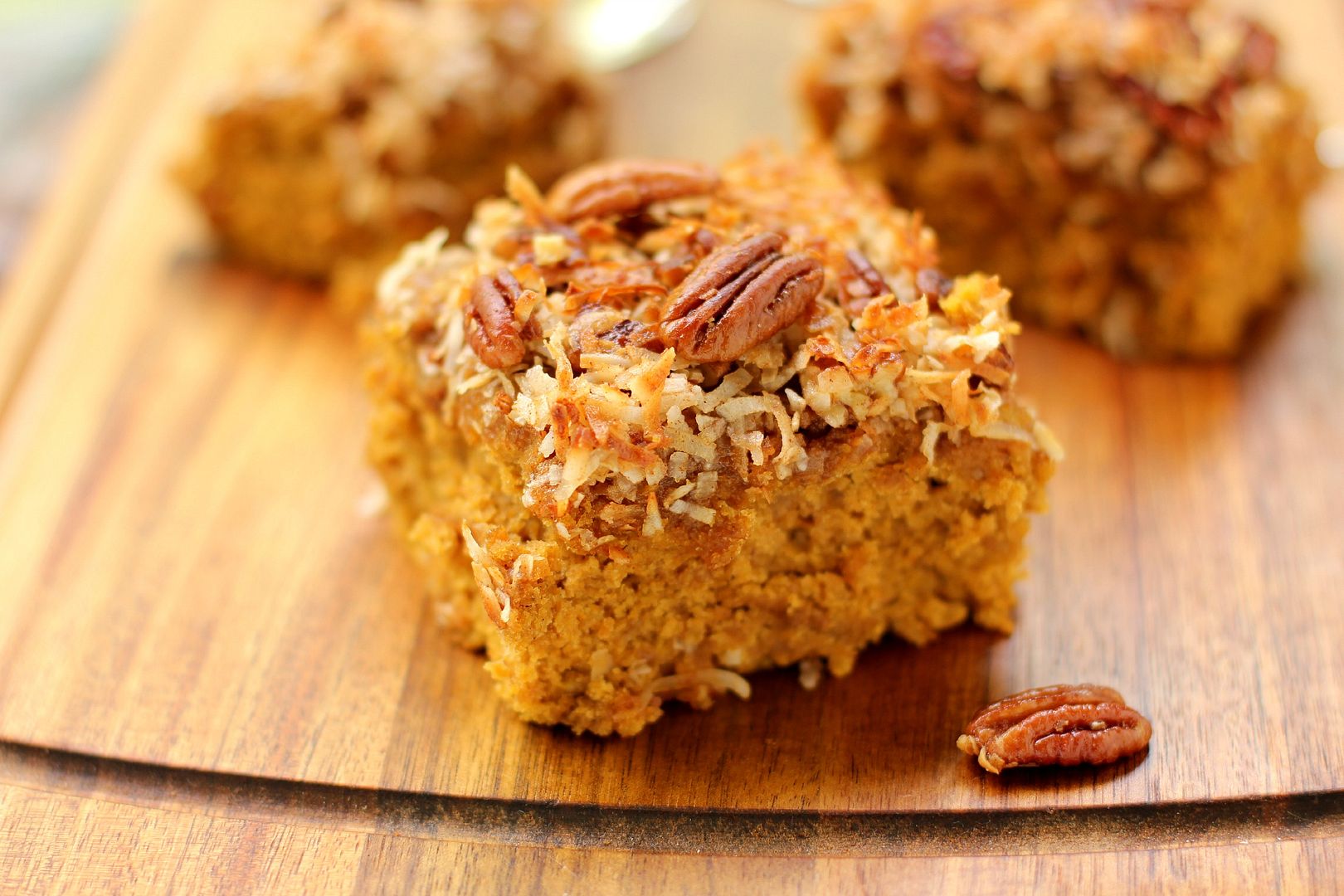 To read more about the interesting guy I met at the coffee shop today, share the little things in life you've been appreciating lately, get the link to vote for WBB as the Saveur Best Baking & Dessert Blog, and see more snack cake photos, please head over to Willow Bird Baking!

x-posted to food_porn, cooking, picturing_food, and bakebakebake