Masterbuilt sent me their Electric Digital Smokehouse to try out for free, so that's pretty awesome.

I thought I was going to hate it because it was a bit fiddly to put together, but I actually ended up enjoying the process. And the meat, of course, was out of this world! All in all, it was a great experience. I wrote more about all the details in the original post if you want to see, but for now, here's the recipe.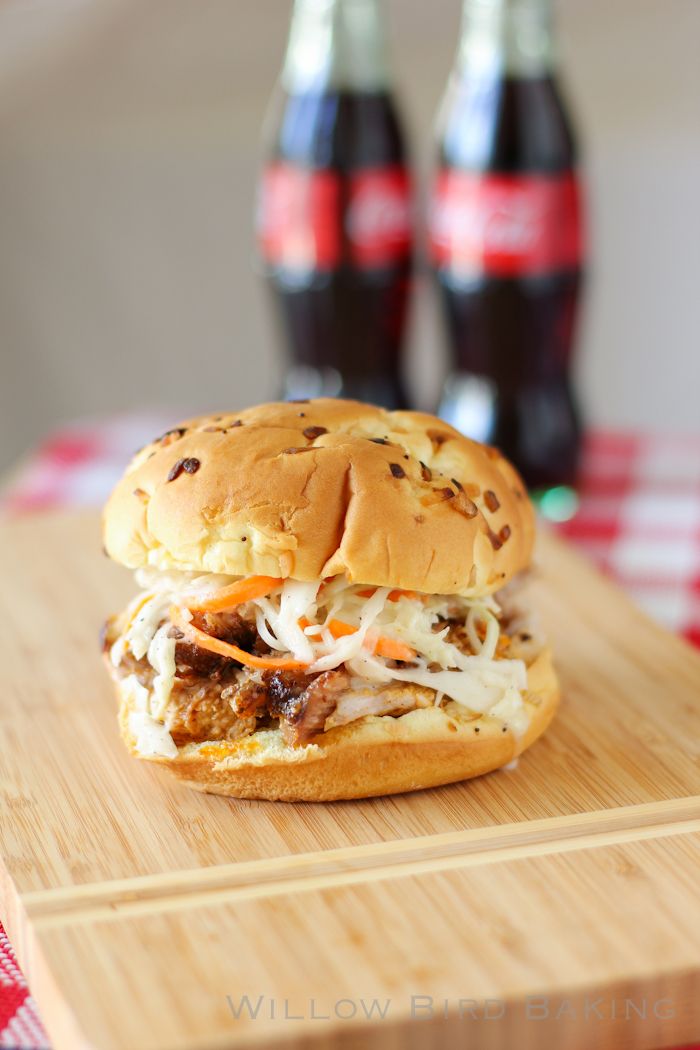 Smoked Pulled Pork Sandwiches with Sweet Coleslaw
---

Recipe by: Willow Bird Baking using a rub by Chris Schlesinger
Yield: a billion servings or pork. Or at least, like, 15.

How I love great pulled pork! This recipe uses a smoker, but you could also smoke your pork roast any way you're used to smoking (my dad does his with his grill). The key is not to jump the gun in pulling it out -- really let it smoke until it's falling apart. Oh, and don't forget to use the great spice rub!

Ingredients:
1 (6.5-pound) Boston Butt pork roast
Best Barbecue Rub
a few cups of hickory or mesquite wood chips
1 head cabbage
1 carrot
1 onion
6 tablespoons sugar
4 tablespoons white vinegar
2 teaspoons salt
1/2 teaspoon black pepper
dash cayenne pepper
1-2 tablespoons mayonnaise to taste
buns of your choice

Directions:
The night before you plan to cook your pork, make your slaw: shred the cabbage, onion, and carrot in the food processor. In a medium bowl, whisk together vinegar, salt, pepper, and cayenne pepper. Pour in shredded veggies and mix well. Cover this and let it sit out while you prepare your pork. Then put it in the fridge (or let it sit out; nothing in it is perishable yet) overnight.

Also the night before, prepare your pork. Trim off some of the fat cap if there is one (I left about half of the thickness on). Generously rub your roast all over with the best barbecue rub. You won't use the whole batch of rub that you made; you'll probably use about half of it. Since you'll want to save the rest, don't put your raw-porky-hands into the rub's container, but instead use a spoon to dispense the rub onto the pork before rubbing it in. Place the rubbed pork into a metal pan that you know will fit into your smoker, cover it, and let it sit overnight in the fridge.

Early in the morning before your pork dinner, put wood chips in your smoker and preheat it to 225 degrees for around 30 minutes (or according to manufacturer's instructions.) Uncover your pork and place it into the preheated smoker, smoking it for around 8 hours (that's how long it took for our 6.5-pound roast). Replace wood chips in your smoker as needed throughout the day, and also mix your cole slaw every now and again. After 8 hours of smoking, cover the pork roast with foil and cook for another hour.

When pork is almost ready, add 1-2 tablespoons of mayonnaise to your cole slaw and mix well. Chill until ready to serve. Heat or toast your buns. When pork is ready, shred it with two forks and mix it in its juices. Pile it high on a bun, top with sweet slaw, and enjoy!









To read all about the smokehouse, see how smoking went, and see more photos, please head over to Willow Bird Baking!

x-posted to food_porn, picturing_food, cooking, cookingupastorm