I'm behind on my LJ posts, so 2 in one day (and one still to come, but I'll hold off for that one) from me. This one NEEDS to make your "to do" list. It was insane.

This Sausage & Corn Chile Con Queso Taco Ring is stuffed with a mixture of hot sausage, sweet corn, green chiles, cheddar cheese, and cream cheese. The result is a creamy, savory masterpiece with a little kick -- not too much for kids -- that is so delicious with some crisp iceberg lettuce, chopped tomatoes, salsa, fresh guacamole, and sour cream. Since it uses Pillsbury Crescent Rolls, it was quick and easy to whip up. It trumps all regular tacos and taco rings, and even my Taco Stuffed Crescent Rolls, which is really saying something. Because those things are nuts.

Anyway, please make this one! And send me some.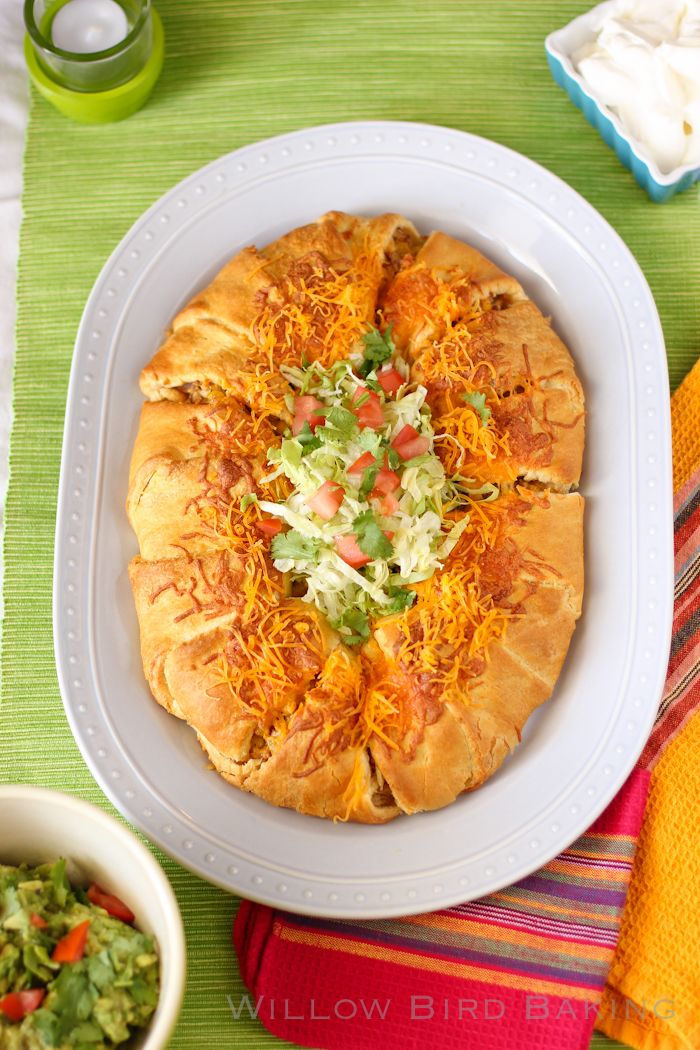 Sausage & Corn Chile Con Queso Taco Ring
---

Recipe by: Willow Bird Baking
Yield: 5-6 portions

Forget your usual tacos and even your usual taco rings: this taco ring is an explosion of hot sausage con queso with green chiles. It's gonna blow your mind! And it's so easy to make.

Ingredients:
1 (8-ounce) package cream cheese
1/2 cup sharp cheddar cheese, plus more for topping
2 tablespoons salsa of your choice
1 tablespoon diced green chiles
1 pound hot sausage
olive oil (if needed)
1 1/2 cups frozen corn kernels
1 tablespoon taco seasoning
2 cans Pillsbury Crescent Rolls

Directions:
Preheat oven to 375 degrees F and cover a round pizza pan with foil sprayed with cooking spray (or use a pizza stone or baking sheet). Place cream cheese, cheese, salsa, and chiles in a large bowl and set aside.

In a skillet over medium-high heat, brown the sausage. Remove the meat to a paper-towel lined plate to drain, reserving the grease in the skillet. As soon as sausage has drained for a minute, pour it into the cream cheese bowl. Set this aside to allow the cheeses to melt.

In the meantime, pour corn kernels into the skillet over medium heat (adding a little olive oil if there's not enough grease) and cook 5-6 minutes or until heated through. Stir in 2 teaspoons of taco seasoning towards the end of cooking. Pour the hot corn over the cream cheese and sausage mixture. Stir together until well combined (it'll take a bit, but it'll come together).

Carefully unroll packages of crescent rolls, separating them into long triangles. Place triangles, points out, in a sun-like ring (allowing bases of the triangles to overlap). Press down on the overlapping bases to flatten the center of the ring to a consistent thickness. (If you'd like to see a video of these steps, I loved this one). Spoon sausage mixture all around the ring (you'll need to really pile it high) and then tuck the points up and over the mixture. Bake until golden brown (let it get really golden to avoid doughiness), around 15 minutes. During the last few minutes of cooking, top it with cheddar cheese. Serve with salsa, cilantro, sour cream, chips, and guacamole.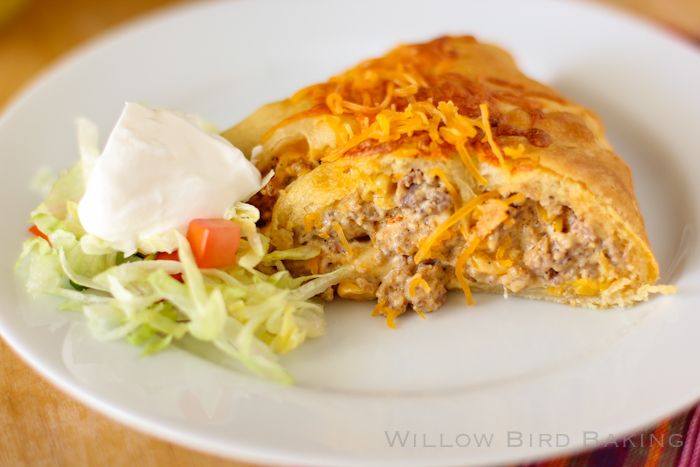 To read my application to become a superhero, watch Edna Mode (NO CAPES!), and see more photos of this ring o' deliciousness, please head over to Willow Bird Baking!

x-posted to food_porn, picturing_food, cooking, bakebakebake