Pumpkin Cheesecake Pillow Popovers
---

Recipe by: Willow Bird Baking
Yield: 39 pillows

These little pumpkin cheesecake pillows are amazing served warm with vanilla bean ice cream and a drizzle of caramel. Add some toasted pecans for more delicious fall flavor. This recipe makes 39 pillows, but if you don't need that many, just half it. To half 1 egg, lightly beat it in a small bowl and discard about 1.5 tablespoons of it before adding it to the recipe.

Ingredients:
4 cans crescent rolls
2 (8-ounce) package cream cheese, softened
5/8 cup sugar
1 egg
2 cup canned pumpkin
2 teaspoon vanilla extract
2 teaspoons ground cinnamon*, plus more for sprinkling
1/4 teaspoon ground allspice*
1/2 teaspoon nutmeg*
1/2 teaspoon ginger*
powdered sugar for sprinkling
caramel sauce and ice cream for serving
*or substitute 2 teaspoons of pumpkin pie spice for these spices.

Directions:
Preheat oven to 375 degrees F. Spray two mini muffin tins with cooking spray.

In a large mixing bowl, beat together the cream cheese and sugar until light and fluffy. Add egg, pumpkin, vanilla, cinnamon, ginger, nutmeg, and allspice, and beat to combine. Cover this and chill it while you prepare your dough.

Unroll one can of crescent baking sheet dough onto a lightly floured surface and roll it out to around 9 x 12 inches. Cut it using a pizza cutter into 9 squares, roughly 3 x 4 inches each. Place the squares into wells of the mini muffin tins, skipping a well between each. Gently push the squares down into the well. Spoon a heaping spoonful of the pumpkin mixture into each well and pinch the corners of the dough together around it, twisting at the top to close.

Bake for 10-14 minutes or until browned (let them get good and golden or they'll still be doughy in the middle.) Remove from the oven and top with powdered sugar and cinnamon. Let them cool in the pan for around 5 minutes before serving them in a bowl with heaping scoops of vanilla bean ice cream and caramel drizzle.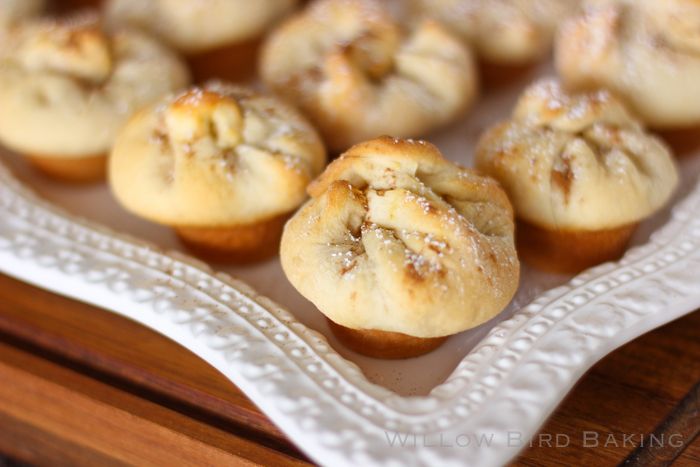 To read about how it's going in the new city, find out about David Fountain, and see more photos, please head over to Willow Bird Baking!

x-posted to food_porn, picturing_food, cooking, bakebakebake