My favorite part of attending pro sports games is the pretzels. Well, the sport, too, but seriously - those pretzels! Pretzels are the perfect sport or party food because they're delicious and super easy to eat one handed, so you can still cheer for the good guys while you enjoy a snack. I had the house to myself for a few hours yesterday, so I decided to try making my own.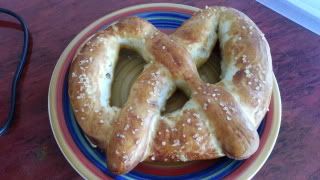 Soft Baked Pretzels
Ingredients
2 1/2 Tbsp butter, cubed and at room temperature
2 Tbsp granulated sugar
2 cups warm water (110°-115°F)
1 packet active dry yeast
5 c. flour, plus more for kneading
10 cups water
2/3 c. baking soda
1-2 Tbsp vegetable oil

Topping
1 egg yolk
1 Tbsp water
coarse salt

In the bowl of a stand mixer, combine water, brown sugar and butter. Sprinkle yeast on top and let stand until foamy, about 5 minutes.

Add 3 cups of flour. Attach dough hook and mix on low speed ("stir" if you have a KitchenAid), gradually increasing to medium speed (3 or 4) as the flour gets incorporated. Stop and scrape down the sides of the bowl as necessary.

Mix in the remaining 2 cups of flour until the dough gathers around the hook and pulls away from the sides of the bowl. The dough will be VERY sticky.

Turn dough out onto a floured surface and knead until smooth, adding more flour if necessary (I used about an additional 1/4 cup). and kneading until smooth and elastic - dough should not stick to your hands.

Lightly grease a large bowl with the vegetable oil. Place the dough into the greased bowl, turning once to coat. Cover with plastic wrap or put into a plastic bag and let rise until doubled in size, about one hour

Preheat oven to 425°F and spray baking sheets with non-stick spray. Punch dough down and divide and shape into an even number of balls, roughly the same size (I made 8 but could have made more for smaller pretzels). Roll each ball into a 24 inch long rope. Bring the ends together to start to form a circle, then twist ends once and lay over the opposite side of the circle, pinching the ends together to seal.

In a large pot, bring water and baking soda to a boil. Carefully drop the pretzels into the boiling water. Cook for 30 seconds and remove with a slotted spoon. Transfer cooked pretzels to prepared baking sheets.

In a small bowl, whisk together egg yolk and water; brush over pretzels. Sprinkle with coarse salt.

Bake 10-12 minutes or until pretzels are golden brown. Transfer pretzels to a wire rack to cool completely or eat once cool enough to handle. Serve with dipping sauce of your choice or eat plain.

For more pics and to read about what I did while I was waiting for my dough to rise, head on over to Elfie's Edibles!