Here's some St. Patrick's Day love for you! Okay, okay, so these don't really look like a St. Patrick's Day treat. No Bailey's Irish Cream or mint or green or any of that this time. But I still think this is quite the sweet offering to celebrate with today! If you love lemon, this is the dessert for you. A huge cloud of lemon cream mousse and freshly whipped cream sit on a buttery shortbread crust. Enjoy!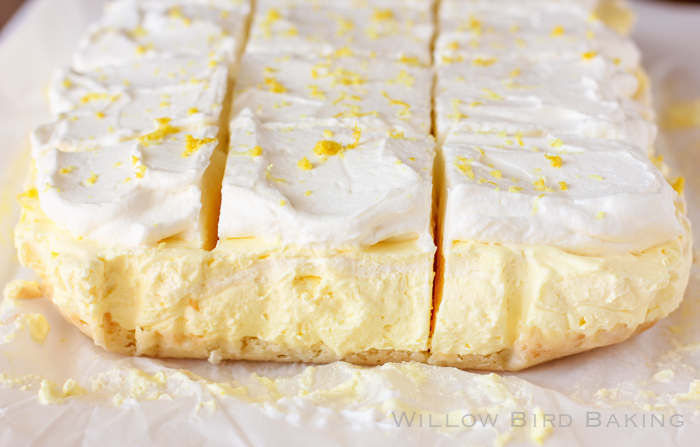 Lemon Cream Pie Bars
---

Recipe by: Willow Bird Baking, using Lemon Curd from Fine Cooking
Yield: 20 tall bars

These bars are a BRIGHT burst of sunshine! The lemon flavor isn't the knock-you-out sort, but a sweet, smooth punch in a bed of whipped cream. You're gonna love these!

Crust Ingredients:
1 cup (2 sticks) butter (I use Plugrá Butter)
2 cups all-purpose flour
1/2 cup icing sugar

Lemon Curd Filling Ingredients:
6 tablespoons butter, softened at room temperature (I use Plugrá Butter)
1 cup sugar
2 large eggs
2 large egg yolks
2/3 cup fresh lemon juice
1 teaspoon grated lemon zest
1 teaspoon gelatin
2 tablespoons cold water
4 cups whipping cream
1/2 teaspoon lemon extract
6-8 drops yellow food coloring (optional)
2 tablespoons powdered sugar

Topping Ingredients:
2 cups heavy whipping cream
1 tablespoon cold water
1 teaspoon gelatin
5-6 tablespoons icing sugar
grated lemon zest (for topping, optional)
fresh raspberries (for serving, optional)

Directions:
Make shortbread crust: Preheat your oven to 350°F. Prepare a 9 x 13 in. baking dish by lining it with parchment paper. Cut the butter into the flour and icing sugar and press into the baking dish (I used a food processor to cut the fat into the flour — about 6-10 pulses — and then the bottom of a glass to press the mixture into the pan). Bake 18-20 minutes or until light brown. Set on a wire rack.

Make the lemon curd: Cream butter and sugar together until pale, fluffy yellow (2-3 minutes). Slowly beat in eggs and yolks and then the lemon juice. The mixture will look curdled, but don't worry. Pour it into a heavy saucepan and heat over low heat, stirring constantly, until the butter melts and the mixture smooths out and no longer looks curdled. Turn heat up to medium and stir constantly until the mixture thickens and reaches 170 degrees F on a candy thermometer (about 10-15 minutes). When you run your finger across the back of a wooden spoon used for stirring, it should leave a clear streak in the curd.

Pour the curd into a shallow bowl and press plastic wrap directly on the surface of the curd. Chill in the fridge until cold. It'll thicken more as it cools.

Make the lemon cream: Make sure your curd is totally cool before beginning this step. In a bowl, sprinkle the gelatin over the 2 tablespoons cold water to soften for 2 minutes. Heat for 15 or so seconds in the microwave, whisking to dissolve the gelatin. Whip 4 cups heavy cream to stiff peaks, adding the gelatin, lemon extract, food coloring, and powdered sugar halfway through. Stir in about 1/3 of the cream into the lemon curd to lighten it, and then gently fold in the curd into the rest of the cream. Pour the mixture over the cooled shortbread crust and spread evenly. Chill in the fridge until set.

Make the whipped cream: In a bowl, sprinkle the gelatin over the tablespoon of cold water to soften for 2 minutes. Heat for 15 or so seconds in the microwave, whisking to dissolve the gelatin. Whip the 2 cups cream to stiff peaks, adding the powdered sugar and gelatin halfway through mixing. Dollop the whipped cream over the lemon cream and gently spread it around. Zest a lemon over the top for garnish. Chill, remove from pan, slice into bars, and enjoy with fresh raspberries, if desired.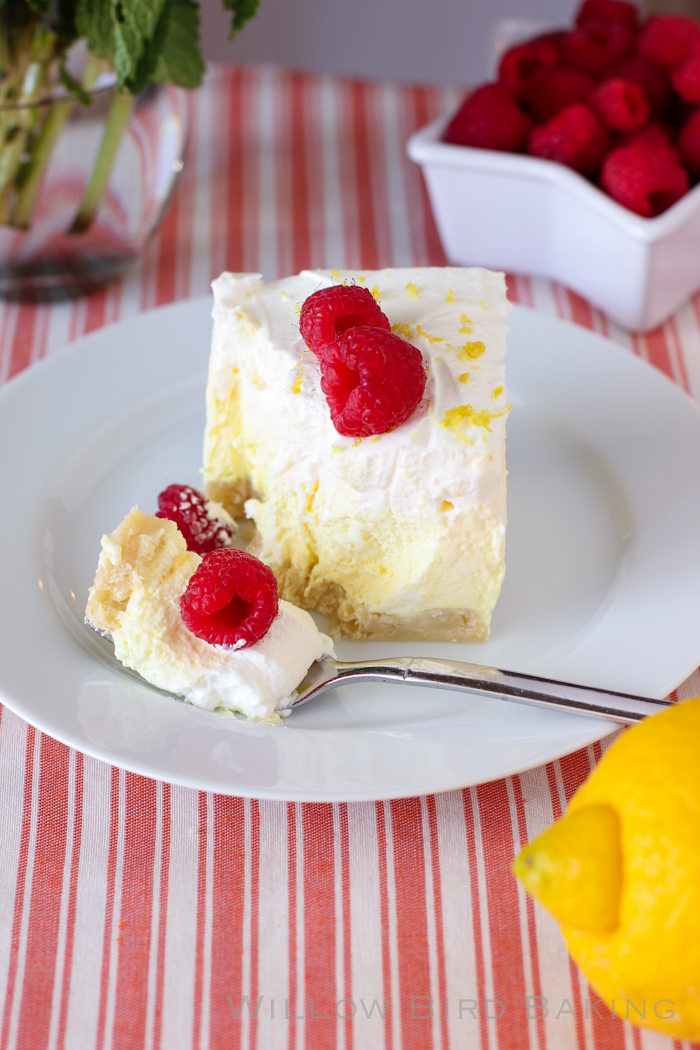 To read about my original song, St. Patrick's Day Love; to see how insufferable I was as a 6-year-old, or to see more photos, please head over to Willow Bird Baking!

x-posted to food_porn, picturing_food, cooking, bakebakebake