These are the latest in my pie bar series, and Mike's favorite! That says a lot, considering how much he loves chocolate. These are so springy and fresh, and of course, really simple to prepare. Enjoy!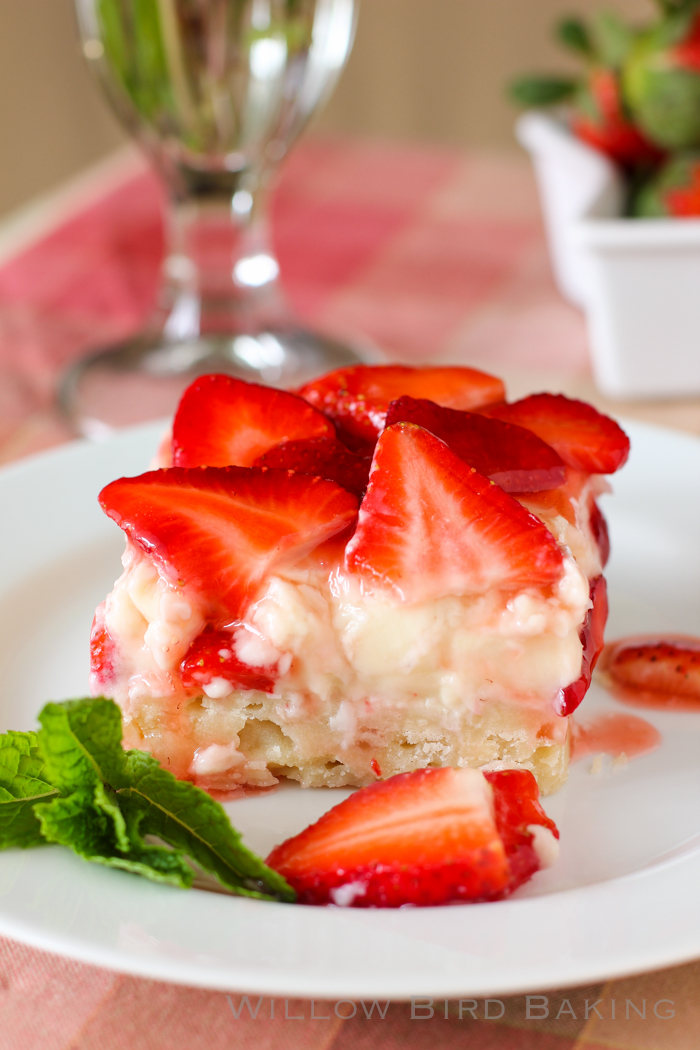 Strawberry Coconut Cream Pie Bars
---

Recipe by: Willow Bird Baking, with filling adapted from All Recipes
Yield: 9 bars

These Strawberry Coconut Cream Pie Bars are an incredible mixture of coconut cream pie and strawberry cream pie -- just perfect for a beautiful spring dessert. Seriously, they are SO GOOD. They're easy to make, too (no pie crust rolling)!

Crust Ingredients:
1/2 cup (1 stick) butter
1 cup all-purpose flour
1/4 cup powdered sugar

Filling Ingredients:
1 1/2 cups half-and-half
1 1/2 cups coconut milk
2 eggs
3/4 cup white sugar
1/3 cup cornstarch
1/4 teaspoon salt
1 cup flaked coconut
1/4 teaspoon coconut extract
1/4 teaspoon vanilla extract

Topping Ingredients:
1 1/2 strawberries (I had some leftover, but I always buy two packs just in case)
1/2 cup water
1/4 cup sugar
2 teaspoons cornstarch
red food coloring (optional; I skipped this)

Directions:
Make shortbread crust: Preheat your oven to 350°F. Prepare an 8-inch square baking pan by lining it with parchment paper. Cut the butter into the flour and powdered sugar and press into the baking dish (I used a food processor to cut the fat into the flour — about 6-10 pulses — and then the bottom of a glass to press the mixture into the pan). Bake 18-20 minutes or until light brown. Set on a wire rack to cool.

Make coconut cream filling: Combine the half-and-half, coconut milk, eggs, sugar, cornstarch, and salt in a large saucepan and bring it to a boil over medium-low heat, whisking constantly until it's thick and bubbling (this can take anywhere from 10-20 minutes. Just do it. It's worth it.) Add coconut and vanilla extracts and the shredded coconut and stir. Pour this filling over your cooled crust, letting it cool for a bit on the counter before sticking the whole thing in the fridge to chill until firm, about 2 to 4 hours.

Assemble and make glaze: Slice most of a pound of strawberries in thin slices lengthwise and layer the slices in pretty alternating diagonal rows on the top of the coconut cream. Set this in the fridge to chill while you make your glaze.

Crush remaining 1/2 cup of strawberries and boil with water in a saucepan over medium-high heat for two minutes. Strain through a fine mesh sieve and discard the pulp. Pour a little of the resulting strawberry juice into the glass with the cornstarch and stir to make a slurry. Put the rest of the juice back into the saucepan over medium-high heat and gradually whisk in sugar and cornstarch slurry. Cook until thickened. If you want, you can tint this glaze with food coloring to desired hue, but mine was plenty bright enough! Cool the glaze slightly (I transferred mine to a heat-proof measuring cup with a pour spout to cool for a bit) and then pour over top of strawberry slices on your pie. Chill bars before serving.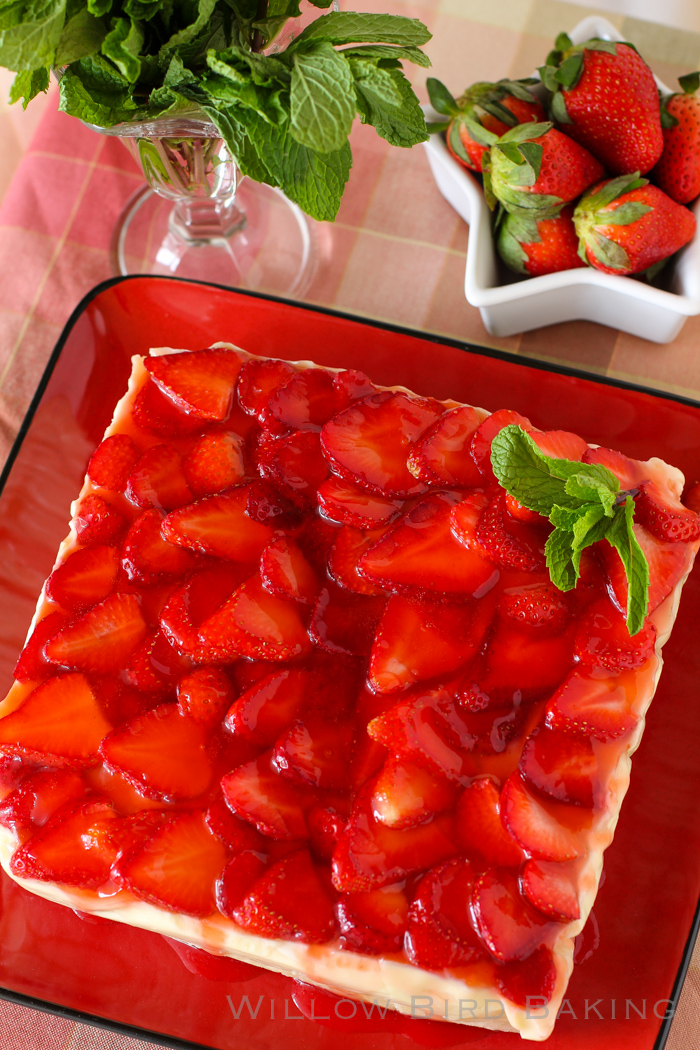 To read some #realtalk about my faith, discuss your own ideas, or see more photos, please head over to Willow Bird Baking!

x-posted to food_porn, picturing_food, cooking, bakebakebake