Now for something chocolatey, wacky, and completely indulgent.

These are Candy Cupcakes. I made Ferrero Rocher Cupcakes way back towards the beginning of my blog, in which I baked an entire frozen FR inside each cupcake. They were delicious (despite the candy losing its crunch), but I wanted to try something I'd seen around the web a few places. I wanted to take a moist chocolate cupcake, fill it with a giant dollop of the hazelnut-chocolate spread Nutella, ice it with rich chocolate frosting, and crown the whole thing with a Ferrero Rocher. The entire cupcake was designed to imitate the flavors in the candies themselves.

And why stop there? How easy would it be to fill some of the cupcakes with peanut butter instead, topping them with a huge Reese's Cup? Tada -- Candy Cupcakes were born :)

They were SO good, and SO easy to make. So here's your challenge: what sort of candy cupcake would YOU make and how would you make it? Bonus points if you GO DO IT and come show me pictures! I'd love to post your results on Willow Bird Baking.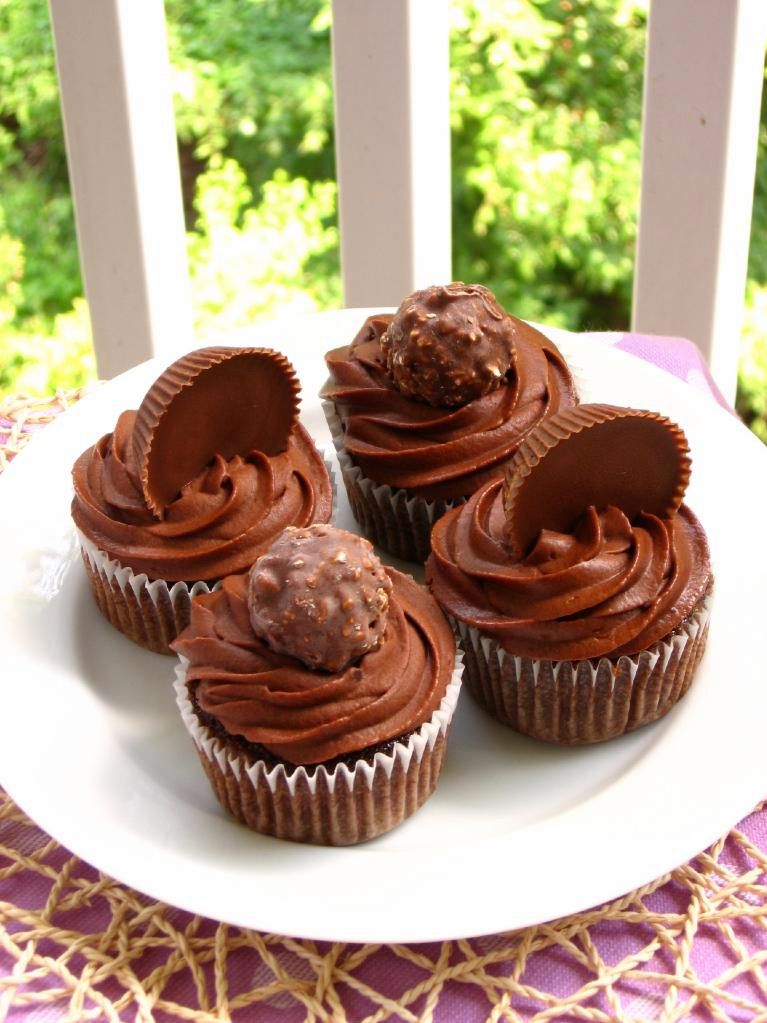 Ferrero Rocher and Reese's Cup Cupcakes
---

Recipe by: Adapted Wacky Cake recipe from Being Wife and frosting from Hershey's
Yields: about 30 cupcakes

Wacky Cake Ingredients:
3 cups flour
2 cups sugar
6 tablespoons cocoa
1/2 teaspoons salt
2 teaspoons baking soda
2 teaspoons vanilla extract
2 tablespoons vinegar
12 tablespoons of mazola or vegetable oil
2 cups water

"Perfectly Chocolate" Chocolate Frosting Ingredients:
1 cup (2 stick) butter
1 1/3 cup cocoa powder
6 cups powdered sugar
2/3 cup milk
2 teaspoon vanilla extract

Candy supplies needed:
Creamy peanut butter (I don't use the natural sort for this because I kind of want a processed, sweet flavor)
Nutella
15 Ferrero Rocher candies
15 Reese's Peanut Butter Cups (I use the big sort!)

Directions:
NOTE: You may want to make these cupcakes the night before you intend to serve them, since the frosting needs time to set in the refrigerator.

Preheat oven to 350 degrees. Line 30 cupcake wells with cupcake liners. In a large bowl, whisk together flour, sugar, cocoa, salt, and baking soda.

Add vanilla, vinegar and oil, stirring until smooth. It's normal for the mixture to seem thick and pasty right now. Add the water and mix (carefully to avoid splattering) until there are no lumps in the batter.

Pour mixture into prepared cupcake pans. Bake 12-15 minutes, or until toothpick comes out clean. Allow to cool completely.

Carefully hollow out each cupcake using a table knife, and reserving the scraps for another use (maybe cake balls?). Using a piping bag or a ziplock with the corner cut off, fill half the cupcakes with peanut butter and the other half with nutella.

Make frosting: Melt the butter and stir in the cocoa. Alternate adding powdered sugar and milk, and beat to spreading consistency. Stir in vanilla. I refrigerated my frosting after beating to give it a thicker consistency, since it wasn't as firm as I'd like. Unwrap all your candies while it refrigerates, because you'll have to work quickly.

Have a platter ready in the fridge to receive finished cupcakes (the frosting is not very secure until it's been refrigerated for at least a few hours). Pipe a big rosette onto each cupcake, covering your filling, and plop the appropriate candy onto the middle. Place finished cupcakes directly in the fridge to sit for a few hours, and take out immediately before serving.






To see why these Candy Cupcakes count as "Wacky," see more photos of them, or hear what happens when you refrigerate Nutella, please head over to Willow Bird Baking!

x-posted to food_porn, bakebakebake, cooking, curiouscupcakes