I post fairly often in
bakebakebake, so some of you will be surprised to learn that I can actually cook, too! I don't get to cook as much as I would prefer, mostly because my boyfriend is a bit particular about what he eats and the way it's cooked... which is why I ended up eating this homemade mac and cheese by myself. Anyway, that's probably another story for another day.

Nothing quite says "comfort food" like macaroni and cheese. The blue box stuff is good, but homemade is always better. I only cook for two (three, if you count leftovers for lunch), so sometimes I have trouble finding recipes that are scaled or that can be scaled accordingly. I found one on The Cutting Edge of Ordinary and knew I had to try it.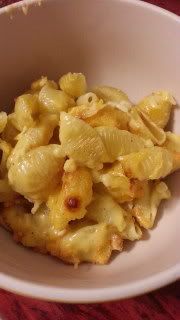 Approx. half box (16 oz size) medium size shells or pasta of your choice
2 Tablespoons butter
2 teaspoons chopped garlic
1 Tablespoon all-purpose flour
3/4 cup milk
1 cup of shredded cheese (my grocery store had a "mac and cheese" blend that I bought - Cheddar, Swiss and American)
Salt and white pepper to taste
Handful of grated parmesan cheese

Preheat oven to 375°F. Cook pasta according to package instructions. Drain and place in a single layer in a greased 9" x 13" casserole dish.

Melt butter in a medium saucepan over medium heat. Stir in garlic and cook about 30 seconds. Mix in flour until mixture is thick and clumpy, then whisk in milk. Continue to whisk mixture and cook until slightly thickened, about 3-5 minutes. Add cheese by small handfuls, stirring until melted completely before adding the next handful. Salt and pepper to taste.

Pour sauce over pasta and sprinkle with parmesan cheese. Bake until cheese is golden, about 20 minutes.